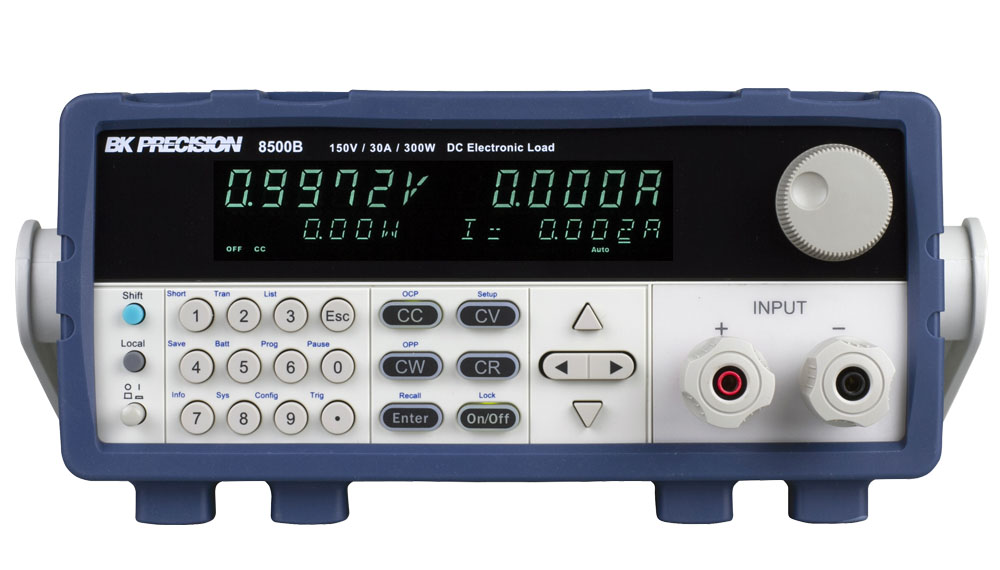 Backward compatible with the legacy 8500 series protocol as well as offering support for industry-standard SCPI commands, B&K Precision's 8500B series of programmable DC loads is suitable for testing DC-DC converters, batteries, battery chargers, and photovoltaic arrays.
The programmable DC electronic loads support constant current, constant voltage, constant resistance, and constant power operation, with list mode, transient operation, automatic test mode, battery test function and an adjustable slew rate. Transient mode in CC mode is up to 10kHz. The 16-bit voltage and current measurement system provides up to 0.1mV / 0.1mA of resolution with flexible triggering options including from the front panel, an external input, a timer, or a bus. The loads also include PC software for front panel emulation and generating test sequences and are compatible with B&K Precision's battery test software for discharge tests. The 8500B series consists of four models each in a 2U (half-rack) form factor.
Specifications
Maximum input power up to 600 W
CC/CV/CR/CW operating modes
Transient mode up to 10 kHz in CC mode
16-bit voltage and current measurement system with up to 0.1 mV / 0.1 mA resolution
List mode and adjustable slew rate in CC mode
Short circuit test
Built-in battery test function with voltage level, capacity level, and timer stop conditions
CR-LED mode to simulate the loading behavior of typical LEDs
Remote voltage sensing to compensate for the effect of voltage drop in wires
Analog current control and monitoring
TTL (DB9) interface, includes TTL to USB adapter
OVP/OCP/OPP/OTP and local/remote reverse voltage (LRV/RRV) protection
The B&K Precision's 8500B series of programmable DC loads is available from various distributors online starting from $910 for the 8542B model.
BK Precision – www.bkprecision.com
Source: MakerFeed.net